Massy Arias

Strive for Progress, Not Perfection!
Massy Arias' Brand New 8 Week Lifestyle Guide
Get ready to transform and change your lifestyle in 2017. This new 8-week program is better than ever. We have included new exciting workouts and tons of information that will help you change your lifestyle altogether.
What will learn through this program:
Total body compound workouts for all fitness levels.

How to pair muscle groups and exercises to give you the best results possible.

How to properly recover while gaining flexibility and mobility.

How to eat to gain muscle and lose body fat.

How to reach your goals in a sustainable way.
WHO CAN DO THIS PROGRAM:
all fitness levels.

At home and at gym friendly

Modifications, regressions, and progressions available.
At home equipment:
Resistance bands

Dumbbells

Barbells

Any equipment that adds resistance.
MA30DAY • Healthier, Leaner, Stronger Body Program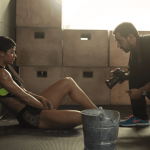 "Dun dun dun…" It's that time of the month ladies… Let's just begin with clarifying that WE ARE NOT ALONE. With or without a flow during our scheduled "period" all of us women experience this hormonal roller coaster every month. It is not an easy time for any of us! It is like a brick…